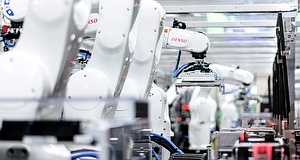 Denso plans to spin off microprocessors | GoAuto
DENSO, one of the world's largest makers of automotive microprocessors – and a key supplier to Toyota – could spin off its chip business from the main group entity.
According to a report by BloombergDenso chief technology officer Yoshifumi Kato said the company was reviewing a business case for separating its microprocessor manufacturing division to see if it would be "better positioned outside of the company."
"We have to ask ourselves if the time will come when we will sell semiconductors, alone, outside," Kato-san said. "It is worth examining whether this type of structure is possible."
Denso is the world's second largest auto parts maker and the world's fifth largest supplier of automotive semiconductors – the company's microprocessor division generates around 420 billion yen (A$4.4 billion) sales, reports Bloomberg. Chips made by Denso go into the auto parts it produces on behalf of automakers and other suppliers.
Kato-san told the publication that Denso, which had invested 160 billion yen (A$1.7 billion) in its semiconductor business over the past three years, did not plan to use a possible spin-off of its chip business to raise new funds for other investments. .
According to Kato-san, the demand for automotive semiconductors will continue to grow as the industry shifts towards self-driving, electric and internet-connected cars.
In a briefing earlier this month, the Aichi-based company said it was targeting 500 billion yen (A$5.3 billion) in sales from its in-house analog power and chip business, an increase of about 80 billion yen.
Nothing has been decided yet regarding a split, Kato-san said. Denso remains focused on meeting existing customer demand for microprocessors and as such any spin-off of the business will be deferred until recent shortages have been resolved.
Shortages of microprocessors have plagued automakers since COVID-19-induced lockdowns led to a spike in consumer electronics at the end of 2020. This led to the diversion of semiconductor supplies from automakers , leading to production delays which were, in turn, exacerbated by global supply chain and logistical issues.
As reported by GoAuto last week, some chip supplies seem to be returning to normal. Concerns about global auto production now focus on rising energy, fuel and material costs amid accelerating inflation and rising interest rates.
Bloomberg reports that capacity is slowly returning to many automotive production lines around the world as the global semiconductor shortage finally shows signs of easing.
The breakthrough is coming sooner than expected. BMW, Volkswagen and other companies have recently suggested it could be another two years before production lines resume capacity, while others including Citroen and Toyota have said the reduction in supply of microprocessors had forced them to revise their production forecasts downwards.
Bloomberg reports that in some cases microprocessor supply has affected global passenger vehicle production so badly that production numbers have yet to return to pre-pandemic levels and many manufacturers are still struggling to source enough components to meet the production demands of increasingly computerized cars.