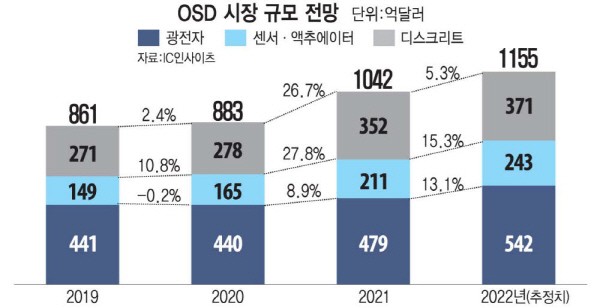 Early sales of non-integrated circuit semiconductors such as sensors 'reach $100 billion'
The semiconductor market, which is categorized as non-integrated circuits (ICs) such as sensors, hit the $100 billion mark for the first time last year. Higher selling prices due to strong demand and insufficient supply of semiconductors was a major factor. This year, it is expected to register a high growth rate of 11% compared to last year.
According to market research firm IC Insights, the optoelectronics, sensor/actuator and discrete semiconductor (OSD) market recorded $104.2 billion (about KRW 125.5 trillion) the last year, up 18% from the previous year. OSD is a non-IC semiconductor that provides simple functions such as optoelectronics (O) for LEDs, various sensors and actuators (S) for pressure, temperature, magnetic field, and discrete (D) for diode and the transistor. Although it is distinct from semiconductor ICs where many circuits are grouped together, the proportion is large enough to account for 17% of the total semiconductor market.
Sensors and actuators saw the fastest growth, registering a growth of 27.8%. The market size is $21.1 billion, the largest in history. Actuators that receive signals and control the movements of various devices have developed rapidly.
Discrete recorded a market size of $35.2 billion, up 26.7%, more than five times the average annual growth rate of the past 30 years. Indeed, the demand for power transistors and diodes installed in various devices has increased significantly.
Among the OSD market, the largest market which is optoelectronics, was approximately $47.9 billion, an increase of 8.9% over the previous year. Large CMOS image sensors rose just 6% to $20.3 billion. It is interpreted that the production of devices with CMOS image sensors is limited due to the US-China trade dispute, technology disputes, and semiconductor shortages.
IC Insights also predicted solid growth in the OSD market this year. Although the growth rate is slightly slower than last year, it is expected to register $115.5 billion, or approximately KRW 139.189 billion, an increase of 11% from this year. This year should also be a record. Optoelectronics is expected to grow 13% to $54.2 billion, and sensors and actuators 15% to $24.3 billion. Discrete is expected to return to the previous year's level of growth and increase 5% to $37.1 billion.
By reporter Dong-jun Kwon ([email protected])