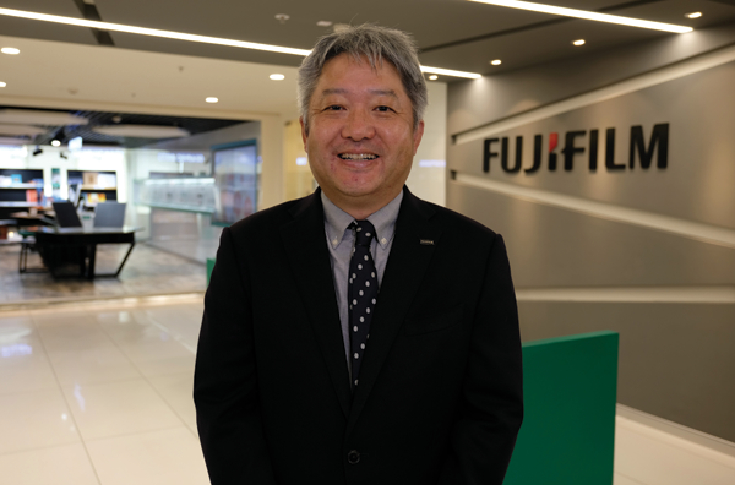 The speed of the microprocessor is the heart of the technology

Haruto Iwata, Managing Director of Fujifilm Asia Pacific, in conversation with PrintWeek
PrintWeek (PW): hard 18 months. Your learnings for 2021…
Haruto Iwata (HI): The business environment is always unpredictable and filled with "Black Swan" events that one can never foresee. Thus, a robust business model that is isolated in some respects and the building of "backups" is a key requirement for today's businesses.
PW: How have your business and factories responded to the challenges of the Covid-19 era?
HI: We have been deeply focused on innovation in Fujifilm's healthcare industry. Our efforts included the contract manufacturing of active ingredients in candidate vaccines, the development of AI-based diagnostic imaging support software for pneumonia, and the development and supply of reagents to detect new viral mutations.
PW: Something on the idea front? New research or innovation?
HI: From India's perspective, Fujifilm India has recently partnered with Sakra World Hospital in Bengaluru to help doctors diagnose the possibility of Covid-19 pneumonia in patients using a new AI-enabled software. The association was part of Fujifilm India's Covid-19 Pneumonia Image Analysis Program campaign, which helps in the diagnosis of chest CT images by offering image results characteristic of Covid-19 pneumonia in three steps.
PW: The pandemic has impacted India's prospects of becoming a $5 trillion economy by FY25. However, did the last quarter figures give confidence to the Indian market?
HI: Absolutely. We are extremely bullish on the Indian market with a solid result to come in the first half (April-September 2021). The Indian team has already surpassed 2019 (pre-Covid) numbers. I'm sure the team will continue their good work in the second half as well.
PW: Brands (FMCG and non-FMCG) are increasingly asking for printing and packaging…
HI: It's not always about speed and flexibility. Brands now recognize that the "value" of each message is more important than the "quantum" of messaging. The dynamics of brand messaging and communications have seen rapid changes with the advent of e-commerce, digital marketing and large format retailers (LFRs). Businesses need to adapt quickly to these ever-changing needs. Print therefore plays a unique role. And printing technologies are evolving accordingly.
PW: As a global manufacturing brand, how can our industry respond to the new normal of – gaining momentum; more flexibility; profit-centric approach; and a reduced carbon footprint?
HI: Sometimes the availability of a technology itself plays a bigger role in helping a business fine-tune how it communicates. It's a kind of marriage between ideas and technology. Therefore, you see a rapid evolution. Moore's Law (the number of transistors on a chip doubles approximately every two years) and Kryder's Law (disk density will double every thirteen months) are still very relevant in the context of technology. As the speed of the microprocessor increases, the overall technology will continue to become faster and more flexible.
PW: How should the printing company adopt marketing strategies that promote the printed brand beyond the product or service function? One school of thought is; the key is to do more than just meet the immediate needs of consumers. What is your point of view ?
HI: Steve Jobs uttered the iconic lines that "the customer doesn't know what he wants." There is still a latent demand in the market. This is how this demand is apprehended by companies.
At the beginning, it is always about "why" a specific product is required. What benefit does it offer customers or what customer need does it meet? Could this be a present or future need or both? Finally, it translates into "how" these needs are met. It is only when the question of "how" arises that product characteristics come into play.
PW: 77% of Indian consumers are actively engaged in sustainable development. These consumers will invest time and money in companies that try to do good…
HI: From the beginning, preserving the environment and maintaining the trust of our stakeholders have been the very foundations of our business activities. They are the starting point of our Corporate Social Responsibility (CSR) activities and continue to be passed down within the Fujifilm Group as our DNA.
PW: Three sustainable actions that you have undertaken over the past year and that you can share with us?
HI: As part of our Sustainable Value Plan 2030 (SVP2030), we have defined our long-term goals targeting fiscal year 2030 in which we have set quantified global environmental goals to reduce CO2 emissions, introduce renewable energies renewables and the efficient use of resources, not only at the manufacturing stage, but also throughout the product life cycle.
In 2021, Fujifilm earned a place on "CDP's Water Security A List", the highest level of recognition awarded in the internationally influential corporate survey of water resources management for two consecutive years. Fujifilm Holdings is one of a small number of high performing companies out of nearly 12,000 that have been rated.
PW: We also heard about Fujifilm's open letter to the leaders of the G20 summit…
HI: Fujifilm recognizes the importance of good policy decisions to help address material issues such as climate change and supported the open letter to leaders attending the G20 summit held in October 2021. The letter signed by more than 600 businesses and organizations urges governments across G20 countries to strengthen their Nationally Determined Contributions (NDCs) in order to meet targets to cut greenhouse gas emissions by at least half by 2030 and to reach net zero no later than 2050. The initiative aims to accelerate the momentum towards decarbonization ahead of the 2022 UN Climate Change Conference.
PW: Is there a green gap between what our industry talks about; and the rest of society? For example, the industry uses terms such as "biodegradable" and "circular economy". How can we close the knowledge gap?
Hi I I don't think there is a disconnect between industry and society on this aspect. I think there is a global alignment of thought and consensus on the value of sustainable development. Industries have made significant progress in complying with this requirement. There may be a lack of knowledge, but I suspect it is only shrinking. You can find it in the steps companies have taken over the past few years toward this initiative.
PW: Do you have any lessons to learn from a client that has been resilient or innovative (and thriving) over the past 18 months?
HI: Some of our customers have excellent recycling and waste management systems in their factories. From a graphic communication point of view, I have seen some of our clients' sophisticated Automated Document Factories (ADFs), which operate completely within the framework of a circular economy. I was very impressed with them.
PW: Your projects for 2022?
HI: Sustainable, competitive and long-term growth.
PW: An outrageous prediction for the coming year…
HI: In a world full of random events, it's best not to make predictions.
Quick Questions
How do you relax?
Photography and scuba diving.
A piece of music you like?
Imagine by John Lennon.
Favorite movie (preferably a movie)?
Godfather.
Three books at your bedside?
Catcher in the rye by JD Salinger, Change Baby lockers by Ryu Murakami and my favorite Kaze ni fukarete by Hiroyuki Itsuki. Kaze ni fukarete stands for 'Blowing in the wind' from the name of the famous Bob Dylan song.
One thing about feeling you like to say in a public forum?
Despite all the apprehensions about the paperless world, print continues to play an important role in messaging and communications.
A recent packaging innovation that impressed you?
Packaging is becoming increasingly sophisticated with last mile tracking of packages through QR codes and RFID integration.
A tech guru (past or present) you want to meet – and why?
Masaru Ibuka, founder of Sony. He was the greatest tech guru in Japanese history.

/features/haruto-iwata-microprocessor-speed-is-the-beat-of-technology-55656
Haruto Iwata: Microprocessor speed is the heart of technology

https://www.printweek.in/Utils/ImageResizer.ashx?n=http://img.haymarketsac.in/printweek/0ecd67d3-ab36-42ee-b60c-016ff24a6e76.jpg