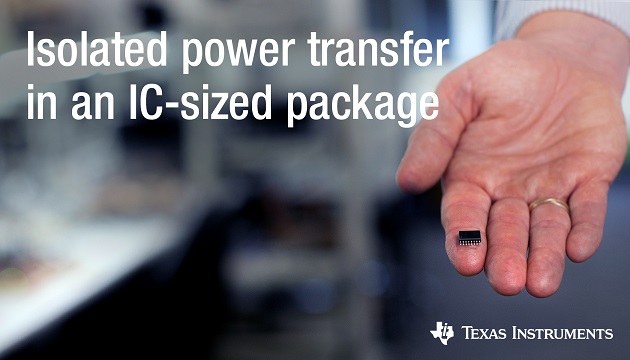 Unveiling of a new integrated circuit (IC) with transformer technology
Texas Instruments (TI) presented the first integrated circuit (IC) developed with new proprietary integrated transformer technology: a high efficiency 500mW isolated DC / DC converter with the lowest electromagnetic interference (EMI) in the industry, UCC12050. Its 2.65mm height allows designers to reduce their solution volume by up to 80% compared to discrete solutions and 60% compared to power modules, with twice the efficiency of competitive devices. Designed for industrial performance, the UCC12050's reinforced 5 kVrms insulation and 1.2 kVrms operating voltage protect against voltage spikes in systems such as industrial transportation, grid infrastructure and medical equipment . For more information see www.ti.com/UCC12050-pr-eu
TI's revolutionary integrated transformer technology enables high density isolated DC to DC power conversion, while maintaining low EMI. The one-piece, surface-mount architecture provides designers with an easy-to-use, low-profile integrated circuit that reduces BOMs and operates efficiently over a wide temperature range. An EMI-optimized low-capacity transformer and quiet control scheme streamlines EMI compliance while providing a reliable solution with reinforced or basic insulation options. Download the white paper "Power Through the Isolation Barrier: The Isolated DC / DC Power Supply Landscape" to learn more about this new family of reinforced isolated DC / DC bias power supplies.
TI will demonstrate the UCC12050 at Booth # 1001 at the Applied Power Electronics Conference (APEC) in New Orleans, Louisiana, March 15-19, 2020.
Main features and benefits of the UCC12050
Small Size, Higher Power Density: Available in a 16-pin Small Contour Integrated Circuit (SOIC) package measuring 10.3mm by 10.3mm by 2.65mm, the UCC12050 offers 60% efficiency, Double that of competing devices of similar size, and double the power density of comparative isolated power modules. The 0.5W supply in the new architecture improves reliability, allows for small nomenclature and simplifies board layout.
Ultra-low EMI: The integrated transformer of the UCC12050 with a very low primary-secondary level capacitance is optimized for EMI performance, and its quiet control scheme makes it easier for engineers to pass their designs through International Special Committee on Radio Interference (CISPR) 32 Class B EMI testing, with margin, on a printed circuit board at two layers. The solution also eliminates external filter components such as low voltage drop regulators and ferrite balls normally required to meet EMI certification, dramatically reducing component selection and design time.
Reinforced insulation, wide temperature range: The reinforced insulation of the UCC12050 with a creepage line and 8mm clearance is used for protection and robustness against earth potential differences. Her high Efficiency and the extended operating temperature range of -40 ° C to 125 ° C provides more power in extreme conditions. Read the technical article "Insulation 101: How to Find the Right Insulation Solution for Your Application" to find out how reinforced insulation and the UCC12050, in particular, can help you save time, effort, money. space and possibly costs compared to other isolated bias power solutions. .
This new high density isolated power converter, the latest advanced device from TI power management portfolio, offers small size and ease of use for any industrial application requiring insulation. In addition, the new UCC12040 offers all the same advantages with a basic insulation of 3 kVrms.
Package, availability and price
The UCC12050 and UCC12040 are available as standard from TI and authorized distributors in a 16 pin, 10.3mm x 10.3mm x 2.65mm SOIC package. Prices start at US $ 3.90 and US $ 3.15, respectively, in quantities of 1,000 units. Engineers can evaluate this product with the UCC12050EVM-022 evaluation module, available on TI.com for $ 99.
For more information visit www.ti.com